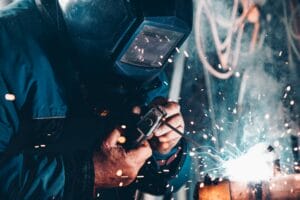 We at Kelair take pride in furnishing top-tier electric, pneumatic, and manual damper actuators on all our custom engineered products.
When it comes to choosing the right actuator, knowing the similarities and differences of both types is a critical first step. Typically, electric actuators are known for their high levels of precision while pneumatic actuators are considered less expensive and easier to maintain. Below we further compare these two kinds of industrial actuators.
Overview of Industrial Damper Pneumatic Actuators
Pneumatic damper actuators are multipurpose positioning mechanisms used to accurately position industrial dampers in response to output signals of a pneumatic controller or electro-pneumatic transducer.
These actuators are known for having a more simple, high cycle life, and fast cycle speed. They are inherently explosion-proof and spark-proof, making them ideal for use in combustion processes, waste incineration, and a plethora of other applications.
In addition to the above, pneumatic actuators also boast the following features:
Not sensitive to wet environments while being 100% duty cycle
Available in double acting or spring return
High cycle life with low friction bearings on all moving and sliding surfaces
Modular design utilizing the same body and end caps for both double-acting and spring-return versions
Bodies are hard-anodized aluminum with the options of corrosion Resistant with PTFE coated body, polyester coated end caps, and stainless steel fasteners
Safety contained springs prevent hazards of inadvertent ejection during maintenance
Typically comes standard with an ISO 5211 mount, allowing you to substitute with other actuators down the road.
Very high reliability and long life, boasting a 1,000,000+ cycle life
Overview of Industrial Damper Electric Actuators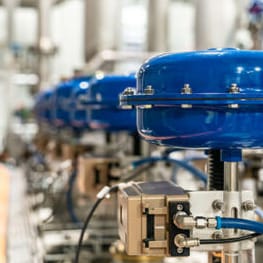 Electric actuators provide the option of high force at a low unit cost in a small footprint, making them ideal for scaling larger applications. Rather than a 100% duty cycle like the pneumatic actuators, electric actuators provide a 25% standard duty cycle that may be upgraded.
Depending upon your environment, you will need to select from NEMA 4, NEMA 4x, or NEMA 7 to house your actuator's electrical components.
In addition to the above, electric actuators also boast the following features:
Allows for longer life and a low maximum noise level of 50db (if a Worm Gear drive is chosen)
An internal heater that minimizes condensation due to temperature and humidity changes
Available with a squirrel cage, totally enclosed motor
Comes standard with position feedback, manual override, position indicator (by contrast, if you add these features to a pneumatic actuator it becomes more expensive)
No air supply is needed, and electricity is only used when actuation is needed versus pneumatic actuators that need to supply air and tend to leak air when not cycled
Questions to Ask When Choosing an Industrial Damper Actuator:
How often will the actuator be cycled?
Is there currently electric or supply air running to the application? If not, what's the cost of running supply air to the location?
How quickly do you need the damper to close?
What is the area classification (explosion-proof, conduit type needed, etc.)
Do you need position feedback? Manual Override? Position Indicator?
Example: If the actuator is continuously cycled, you'd like to have enhanced speed close-time, and you don't need position feedback with manual override– pneumatic actuation may be your better choice, even with the cost to run supply air. This is because of their extreme life cycle and fast close times.
Trust the Experts for Your Actuator Needs
Depending on the circumstance, electric and pneumatic actuators both have their advantages. All of Kelair's actuators are compact and easily installed. We will work with your specifications or we will readily determine the best damper operator to fit your specific application. What's more, our damper actuating packages will come prewired, pre-piped, calibrated, and fully tested.
Get in touch with a Kelair Products, Inc. representative to learn more.