Engineered to allow airflow in one direction and prevent reverse airflow
Industrial backdraft dampers fulfill the same mission as their commercial counterparts: they allow airflow in one direction and prevent airflow in the opposite direction. Another way to say this is that these dampers allow for air intake or exhaust/pressure relief while automatically preventing the backflow of air. Kelair's backdraft ventilation dampers are manufactured to withstand environments with high back pressures and high airflow velocities. These types of industrial backdraft vents are supplied with counterbalanced weights, mounted externally (which are easily field adjustable), they can be gravity balanced, or even paired with actuation if desired.
*Operational testing and calibrating are completed at the factory prior to installation. Questions about installing a Kelair damper at your facility? Contact a Kelair representative near you for answers.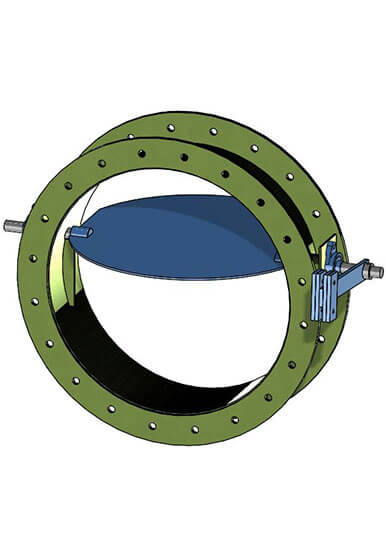 Backdraft Dampers for Essential Ventilation Systems
Kelair backdraft gravity dampers are custom made for ventilation systems and are used in a variety of industries and commercial settings to ensure the quality of circulated air and eliminating contaminants from interfering with the operational efficiency of industrial facilities.
These high-quality backdraft valves can prevent a range of potentially dangerous particulate from entering ventilation systems, heat exchangers, exhaust systems and even solar heating systems. The experienced team at Kelair can design, engineer and manufacture a range of types and styles including butterfly dampers which can be used/installed in both horizontal and vertical positions.
Other Varieties of Dampers
In addition to standard counterbalanced backdraft dampers, we provide other types for specific applications. These include pressure relief dampers, which remain open until a preset pressure is reached, at which point they close. They prevent air from traveling back into the system they are attached to, as well. Barometric dampers are similar to backdraft dampers and are used to ventilate and depressurize areas to prevent damage caused by excessive heat or tension. Our expertise with these and many other types of dampers make us your best choice for the equipment and components you need for your systems.
How do Backdraft Dampers Work?
What is unique about these ventilation dampers is that they use one of the fundamental forces of nature – gravity. When air flows out of the backdraft ventilation damper, gravity is the means by which the damper closes, preventing air which has been contaminated from reentering the system.