Actuators are used to control and operate dampers
Kelair furnishes electric, pneumatic and manual damper actuators on all of our custom engineered products used across multiple industries. Motorized damper actuators such as pneumatic actuators and electric actuators can be either 2 position control or modulating control. Additionally, the damper actuators can be ordered in four ways:
Factory installed and ready to operate
Shipped with the damper unattached for field installation
Shipped directly to the job site for field installation
Factory mounted and tested, custom supplied actuator packages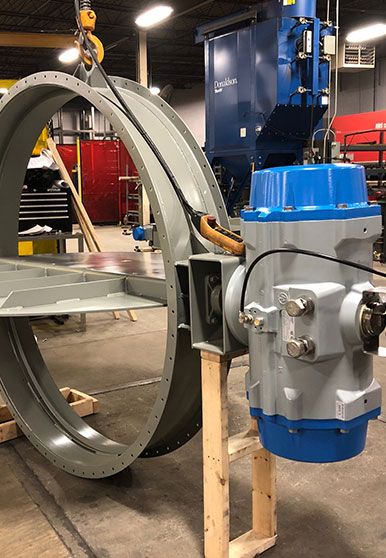 Pneumatic and electric for easy connectivity and flexibility
Pneumatic damper actuators are multipurpose positioning mechanisms used to accurately position industrial dampers in response to output signals of a pneumatic controller or electro-pneumatic transducer. They have high power to size ratios in confined spaces and flexible mounting configurations.
Electric damper actuators provide easy connectivity to digital controllers. The voltage source must be selected and typical voltages for these devices are: 24 VDC, 120 VAC or 240 VAC. All Kelair's electric damper motor actuators are compact in size and easily installed. We will work with your specifications or we will readily determine the best damper operator to fit your specific application. All of our damper actuating packages will come prewired, pre-piped, calibrated and fully tested.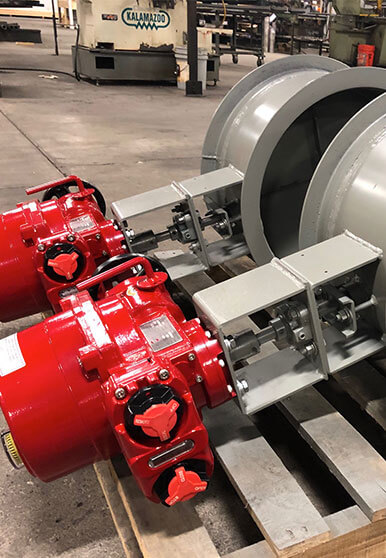 Electric & Pneumatic Damper Actuator Specifications & Features
Electric Damper Actuator
ISO 5211 Mounting
Wormgear drive for longer life and low maximum noise level of 50db
Standard Enclosure IP-67, NEMA 4, 4X
20 Watt internal heater to minimize condensation due to temperature and humidity changes
Squirrel cage, totally enclosed motor
Pneumatic Damper Actuator
Available in double acting or spring return
ISO 5211 mounting
High cycle life with low friction bearings on all moving and sliding surfaces
Modular design utilizing the same body and end caps for both double-acting and spring-return versions.
Corrosion Resistant with PTFE coated body, polyester coated end caps and stainless steel fasteners
Safety contained springs prevent hazards of inadvertent ejection during maintenance
Optional mounting kits to cover any application and replacement of the obsolete unit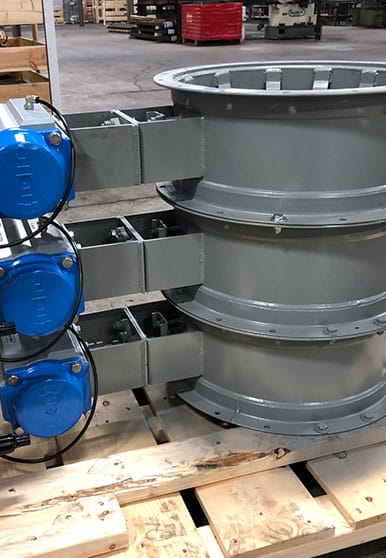 Manual Damper Actuator Specifications & Features
Kelair Offers three types of manual damper actuators: 
Lever & Quadrant:

This type of damper actuator has a manual lever with a locking quadrant. The Lever allows for easy and precise adjustment. The locking quadrant is a threaded handle and clamp style for secure locking.

Gear Operator Handwheel:

This actuator is composed of an industrial worm gear operator that is a quarter- turn, self-locking type. The handwheel is 12 inches and there is a 30:1 gear ratio for easy operations

Gear Operator & Chainwheel: 

This manual actuator is the same as above, but with a chain wheel & chain drop at a distance, in place of a hand wheel for remote operation. The chainwheel and chain drop at distance per customers specifications.
Want to learn more about electric vs. pneumatic actuators? Check out our overview here.