Dampers that provide dependable, low leak isolation
Slide gate dampers or guillotine dampers are a type of industrial damper commonly used when low leakage and low-pressure drop are required.  They perform best where flow control is not critical but low leakage is.  These types of dampers are well suited for situations where isolation of an air stream or gas flow occurs frequently due to routine maintenance, inspection or repair.  Kelair's heavy duty construction allows for slide gate or guillotine dampers to function reliably in demanding environments with corrosive gas, particulates and high temperature.
Kelair's slide gate dampers provide numerous benefits to your application.  They cut through heavy particulates with smooth opening and closing.  They have fewer moving parts, therefore less maintenance.  If space is an issue, guillotine dampers require less of it along the duct (flange to flange).  Overall, slide gate or guillotine dampers benefit the customer with solid, long term operational savings.
*Operational testing and calibrating are completed at the factory prior to installation.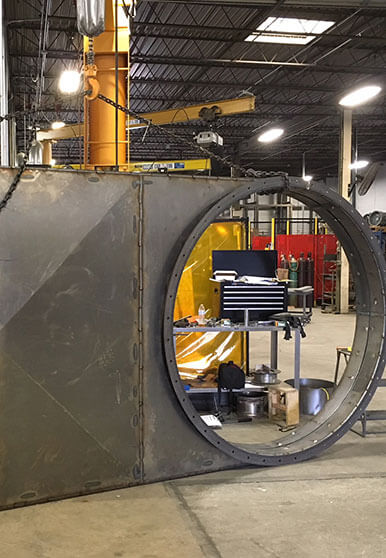 Product Features & Specifications
Sizes:

 from 10″ to 84″

Process Temperature:

up to 1000° F

Configurations:

round, square, & rectangular

Construction:

S.S. or painted C.S. (others available upon request)

Shutoff:

up to 99%

Seal Options:

compression & metal seat

Actuation:

manual, electric & pneumatic (spring return and failsafe available)

Modulation:

open/closed 

Pressure:

up to 1 PSI & 4000 FPM process air (higher available upon request)
Enclosed bonnet (blade retraction) area standard