Pollution Control Industrial Dampers
Kelair understands the unique process air and gas flow challenges of pollution control equipment manufacturers. 
You require damper products that are engineered to the exacting standards that you, your customers and regulators demand. Ideal for manufacturing facilities with emission control systems and leveraging VOC (volatile organic compound) abatement techniques, Kelair dampers have become "must have" components in pollution control systems for many industrial companies.
Kelair dampers are designed and constructed to meet and exceed the most stringent equipment specifications for air flow, temperature, actuation, material choice and cost value. Airflow control dampers are used to transport and control how pollutants enter into a VOC abatement device, and affect energy efficiency and total system performance.
Pollution Control Damper Solutions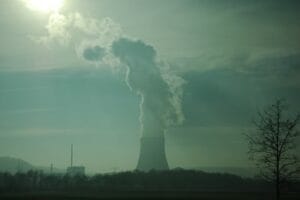 Kelair has been supplying engineered damper solutions to the pollution control market for over 30 years. Our custom industrial dampers have been installed in various types of pollution control systems, including:
Regenerative Thermal Oxidizer (RTO)
Catalytic Recuperative Oxidizer (CATOX)
Vapor Combustion Unit (VCU)
Thermal Recuperative Oxidizer
Kelair can supply various styles and material combinations to fit your systems with our pollution control dampers:
Round butterfly, multi-vane louvers, modulated vane and many others.
Cast refractory and stainless steel for high temp applications.
Pneumatic and electrical actuation choices.