A pre-assembled Diverter or Tee Damper has many advantages
A Diverter or Tee damper can be a very simple tool with 1 purpose:  to divert the flow of air or gas within a system in another direction. 
It is typically arranged as a dual damper that resembles a Pipe-T, however, it can also be configured at 45 degrees or as a "Pant Leg" version.  The 2 openings or outlets are mechanically linked so that when one is opened, the other is closed. 
The use of one actuator with a slave linkage saves cost and assures simultaneous operation of both dampers in the assembly. Spring-assisted actuators can be utilized to provide a predetermined fail position of the damper vanes. Open/closed auxiliary limit switches are also available.  
Tee/Diverters can also perform the trifecta of damper functions:  modulate, divert and isolate air or gas flow. This is done by adding a modulation actuator to allow diversion to multiple outlets.  In fact, Kelair can manufacture a 3 or 4-way diverter damper that has up to 4 outlets,  that runs all 3 of these operations:  modulation, diversion, and isolation.
*Operational testing and calibrating are completed at the factory prior to installation.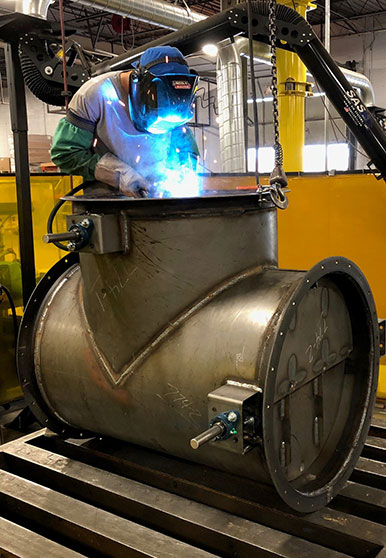 Product Features & Specifications
Sizes:

10″ to 48″

Process Temperature:

up to 1800° F

Configurations:

round, square, & rectangular

Construction:

S.S. or painted C.S. (others available upon request)

Shutoff:

up to 99%

Seal Options:

tadpole, metal seat, swing-thru; control & balancing

Actuation:

manual, electric & pneumatic (spring return and failsafe available)

Modulation:

open/closed or modulating

Pressure:

up to 1 PSI & 4000 FPM process air (higher available upon request)
Ball bearings and shaft packing glands standard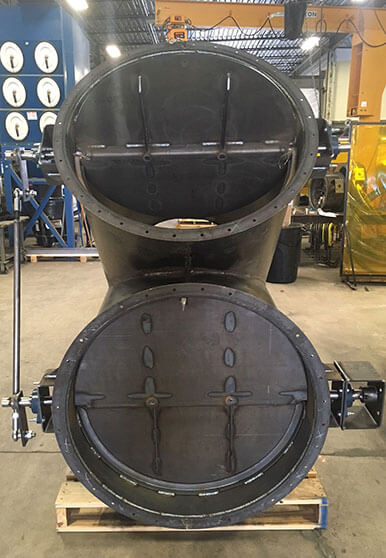 Commonly Asked Questions About Diverter & Tee Dampers
How are bearings inspected on the diverter and tee dampers?

Bearings are inspected on the diverter and tee dampers via visual inspection. Make sure to visually inspect the bearings both prior to running and while running to ensure that all shafts are rotating correctly,with minimal friction, and within the specified actuation time.

What is the recommended inspection frequency for the shaft of diverter dampers?

Since the shaft plays such a large part in a damper's operation, inspections are recommended on an annual basis, at minimum. During inspection of the shaft, make sure to check that the shaft is straight and operating smoothly.

What are some of the most common applications for diverter and tee dampers?

Diverter and tee dampers can be used in a diverse range of industrial applications, such as: air pollution control systems, heat recovery systems, within cogeneration units for waste heat recovery boilers, or anywhere you'd like to divert air or gas flow from one outlet to another.