High-Quality Butterfly Dampers
Kelair's Butterfly dampers were developed in response to our customers' desire for an economical industrial damper that could be used in most applications.
Appropriate for flow control and low leakage in systems that regulate clean air, gas, or light particulate, these can also be engineered to process highly corrosive, abrasive, or high heat air flows.
These types of dampers are a cost-effective means to control and isolate air duct systems. Kelair's Butterfly damper are applicable for open-closed service or flow control balancing. Discover the variety of industrial-grade damper products available at Kelair, one of the industry's top Butterfly damper manufacturers. 
*Operational testing and calibrating are completed at the factory before installation.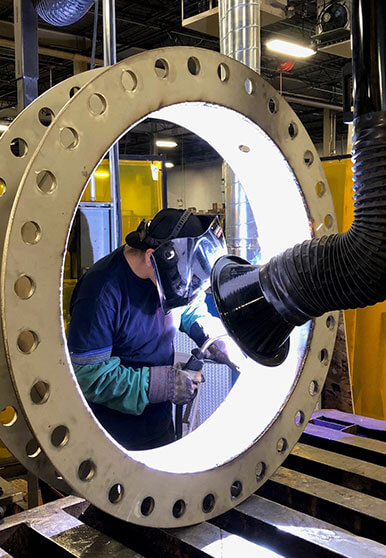 Product Specifications & Features
Sizes: 6″ to 144″
Process Temperature: up to 2200° F
Configurations: round, square, & rectangular
Construction: S.S. or painted C.S. (others available upon request)
Shutoff: up to 99%
Seal Options: tad pole, metal seat, swing-thru; control & balancing
Actuation: manual, electric, pneumatic (spring return and failsafe available)
Modulation: open/closed or modulating
Pressure: up to 1-PSI & 4000 FPM process air (higher available upon request)
Ball bearings and shaft packing glands standard up to 400°F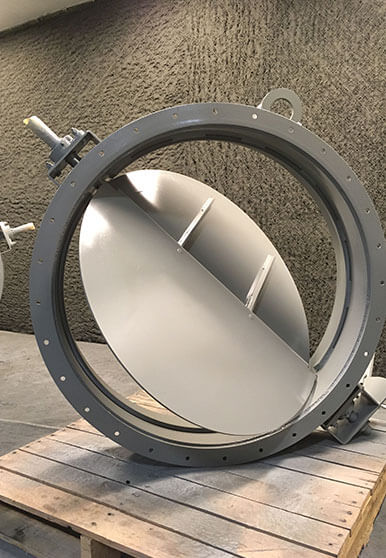 Commonly Asked Questions About Butterfly Dampers
What are the benefits of a butterfly damper?

Compact design, most economical, no exterior linkage, higher shutoff rates and they remain consistent along temperature swings.

How are shafts used on these wafer dampers?

The shaft plays a large part in its operation, as it intersects the linkage, bearing, packing, and blade. When inspecting the shaft, make sure to check that it is straight and operating smoothly.

What types of seals are used on a butterfly damper?

The most common types of seals used within these include tadpole seals (which provide better compression; ideal for uneven services) and metal seats.

Do butterfly dampers require any maintenance?

Although Kelair dampers require minimal maintenance, there are aftermarket parts of the butterfly damper that should be kept in stock and checked regularly.

What does proper care look like for the butterfly damper blades?

Depending on the damper's environment, process, and age, blades can warp or bend over time. Proper care involves regularly checking the blade to ensure there is no warping or twisting, or buildup of debris that could prevent the blade from performing correctly.

What is the minimum information I need to get a quote on a damper?

For the most accurate quote please provide the following information:

Type or style of damper. For example: butterfly, louver, Tee, diverter, etc.
Preferred material, such as stainless steel, carbon steel, other
Pressure requirement
Temperature the damper will be exposed to
Air flow amount
Manual, pneumatic or electric actuation/positioner required
Amount of shut off needed (usually in %)