High-Quality Butterfly Dampers
Kelair's Butterfly dampers were developed in response to our customers' desire for an economical industrial damper which could be used in most applications.
Appropriate for flow control and low leakage in systems that regulate clean air, gas or light particulate, Kelair's Butterfly dampers can also be engineered to process highly corrosive, abrasive or high heat air flows.
These types of dampers can be a cost-effective means to control and isolate in air duct systems. Kelair's Butterfly dampers are applicable for open-closed service or flow control balancing. Discover the variety of industrial-grade damper products available at Kelair. 
*Operational testing and calibrating are completed at the factory prior to installation.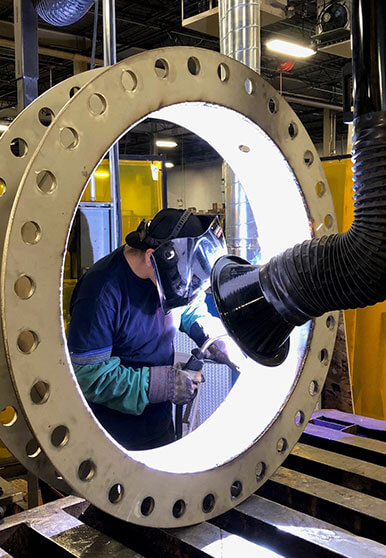 Product Specifications & Features
Sizes:

6″ to 144″

Process Temperature:

up to 2200° F

Configurations:

round, square, & rectangular

Construction:

S.S. or painted C.S. (others available upon request)

Shutoff:

up to 99%

Seal Options:

tad pole, metal seat, swing-thru; control & balancing

Actuation:

manual, electric, pneumatic (spring return and failsafe available)

Modulation:

open/closed or modulating

Pressure:

up to 1-PSI & 4000 FPM process air (higher available upon request)
Ball bearings and shaft packing glands standard up to 400°F