Industrial Dampers for Refineries
Kelair dampers are essential to the safety and operational efficiency of systems used by petrochemical manufacturers and oil refineries.
Plant operators, engineers and management within the chemical process industry know the significance of precision, caution, and reliability of equipment to comply with environmental health concerns. Inefficient and uncontrolled systems release unstable gases into the environment, disrupting the ecosystem and contaminating the air, food, and atmosphere. This processing of chemicals demands particular attention to pollution control through efficient and reliable equipment with Kelair dampers.
How are dampers used within refineries?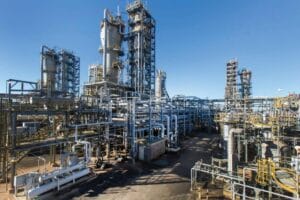 With increasingly stricter environmental regulations which mandate lower emissions, dampers are used by companies within the oil/gas and petrochemical sector in a variety of circumstances, from offshore drilling rigs to gas compression systems. Refineries transport streams of fluids between chemical processing units which can create chemical emissions and odors. Kelair's custom industrial dampers are designed and engineered to exceed even the highest safety requirements, and directly address challenges for optimal performance.
The dampers used within oil refineries and petrochemical plants must be designed and engineered in a way that helps companies maintain their desired environmental conditions and pressurization between hazardous and non-hazardous areas. Dampers are used to dilute and remove potentially dangerous concentrations of toxic gases, filter dust and other chemical contaminants, while also isolating and controlling ventilation in case of an emergency.