Industrial Louver Dampers that feature quick actuation, control and isolation
Kelair Louver Dampers or Multi-Vane Dampers consist of several blades mounted parallel across a duct. These are commonly found in applications across multiple industries. They modulate the flow of air and gas in mostly dry conditions or can isolate and shut them off altogether. Opposed blade carbon steel and stainless steel louvers allow the flow to increase or decrease with high precision. Parallel blades allow for complete shut off and are particularly useful where space is restricted.
These industrial louver dampers are frequently motorized or can be manually adjusted for flow control. Louver dampers control gas or air flow, detour flow into separate systems, or isolate a process for inspection and maintenance. Motorized louver dampers are particularly useful in applications where quick actuation and space constraints are major issues. Louver dampers are adaptable, can be lightweight, compact and have low leakage to the outside environment.
*Operational testing and calibrating are completed at the factory prior to installation.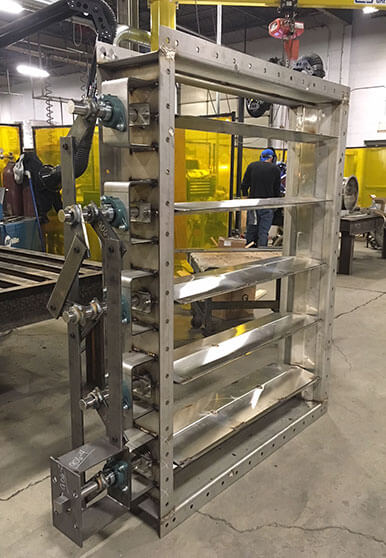 Product Features & Specifications
Sizes:

14″ to 132″

Process Temperature:

up to 2100° F

Configurations:

round louver, square, & rectangular (parallel or opposed vane)

Construction:

S.S. or painted C.S. (others available upon request)

Shutoff:

up to 99%

Seal Options:

compression, jamb, metal seat, swing-thru; control & balancing

Actuation:

manual, electric, pneumatic (spring return and failsafe available)

Modulation:

open/closed or modulating

Pressure:

up to 1-PSI & 4000 FPM process air (higher available upon request)
Ball bearings and shaft packing glands standard 
Commonly Asked Questions About Louver Dampers
What are the benefits of a louver damper?

Compact interior vane design (open vanes do not extend into adjoining duct as much as butterfly dampers).  Best suited for modulation flow control with opposed vanes.

What types of seals can be used on a louver damper?

The most common types of seals used within louver dampers include compression seals, metal seals, and jam seals. Jam seals, in particular, allow for thermal growth of the blade(s) and can minimize the accumulation of fly ash.

What kinds of applications are louver dampers ideal for?

Kelair steel louvers can be made to withstand temperatures greater than 2000°F (with our in-house refractory) and pressures up to 1 PSI, making them ideal for industrial applications. Louver dampers can be used for fast power generation, metal tempering systems, fan inlets, air pollution control systems, and much more.

What can cause linkages to operate ineffectively on louver dampers?

Linkages connect all shafts to the actuator, allowing the damper to open/close simultaneously. Over long periods of time, linkages may become offset or even warp if unexpected temperature excursions occur, causing blades to operate effectively. Regular maintenance can help ensure that linkages continue to work properly without warping.

How often should packing glands be changed out?

The packing gland is a type of stuffing used to seal the rotating shaft, creating a barrier between the process and the exterior environment. While relatively inexpensive, damage to the packing gland can result in expensive damage such as binding and/or warped blades. Packing glands should be replaced at least every 5 years (depending on the process).