Industrial Dampers that feature quick actuation, control and isolation
Kelair Louver Dampers or Multi-Vane Louver Dampers consist of several blades mounted parallel across a duct. They modulate the flow of air and gas in dry or wet conditions or can isolate and shut them off altogether. Opposing blade type louvers allow the flow to increase or decrease. Parallel blades allow for complete shut off and are particularly useful where space is restricted.
These dampers are frequently motorized or can be manually adjusted for flow control.  Louver dampers control gas or air flow, detour flow into separate systems, or isolate a process for inspection and maintenance.  They are particularly useful in applications where quick actuation and space constraints are major issues.  Louver dampers are adaptable, can be lightweight, compact and have low leakage to the outside environment. 
*Operational testing and calibrating are completed at the factory prior to installation.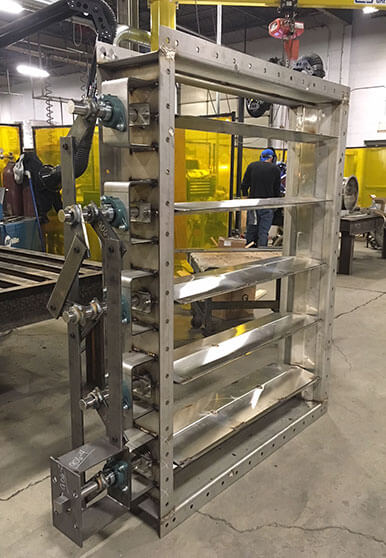 Product Features & Specifications
Sizes:

14″ to 132″

Process Temperature:

up to 1100° F

Configurations:

round, square, & rectangular (parallel or opposed vane)

Construction:

S.S. or painted C.S. (others available upon request)

Shutoff:

up to 99%

Seal Options:

compression, jamb, metal seat, swing-thru; control & balancing

Actuation:

manual, electric, pneumatic (spring return and failsafe available)

Modulation:

open/closed or modulating

Pressure:

up to 1-PSI & 4000 FPM process air (higher available upon request)
Ball bearings and shaft packing glands standard