The custom dampers (including slide gate and backdraft dampers) supplied by manufacturers like Kelair always maintain the highest level of quality, from top to bottom. To do so, each product must meet a unique set of safety and performance standards to ensure the high level of performance our clients expect in their application.
Prior to use in an industrial setting, every custom damper from Kelair goes through rigorous testing to check for proper mechanical operation and the integrity of both materials and construction. This set of standards is particularly important for industrial dampers that need to withstand extreme conditions including high temperatures and repeated use.  Read on to discover how proper mechanical testing, construction and installation result in a better and longer lasting product.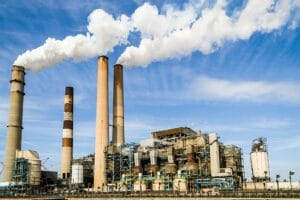 Proper Mechanical Testing
As it relates to quality assurance, ACMA standards (PDF) are met prior to any Kelair products prior to shipment. This includes testing for air performance specifcally. The manufacturing facility will test the airflow up to 10 times, ensuring airflow is optimal both front to back and back to front.
Depending on the type of damper, and it's specific applications, other testing requirements might include performance evaluations for:
Wind-driven rain
Water penetration
Sound performance
Air leakage
Product Construction Standards
For industrial applications, Kelair dampers are required to function properly in conditions where static air pressure can reach incredibly extreme conditions. Special design and construction considerations must be in place to allow for the highest performance possible.
The construction of each custom damper must first meet a set of engineering and design specifications established by the client/user and the manufacturer. Custom industrial dampers are required to be built from heavier materials, such as a thick gauge of galvanized steel or roll-formed steel in order to hold up in demanding environments, and warrant close inspection to ensure product integrity.
Keep in mind that while heavy duty custom dampers are made of a thicker, heat resistant steel, they are not suitable for use as a fire damper. Life safety dampers are designed specifically to protect against fire and smoke, requiring their own rigorous testing. Do not try to utilize any traditional damper in place of a fire safety damper. 
Learn more about the industries where Kelair dampers are used.
Requirements for Installation
When installed, custom dampers need to suit not just the environmental conditions and the air flow/control needs, but also the dimension requirements (size, space, and general fit) of surrounding pieces of equipment.
Due to the nature of the material used for custom dampers, they will be much heavier than a standard control damper which can put additional strain on existing infrastructure. A heavy duty custom damper can range anywhere from 8 pounds per square inch to 18 pounds per square inch – and in extreme cases often even more – which makes the installation process a critical aspect.
Considering the extra weight, where clients plan to place their industrial damper (and how they intend to use it) is important when choosing a specific damper manufacutring company. Before installing, Kelair makes sure the application will be able to support a heavier weight.
As well as ensuring the allowable space meets the requirements, Kelair goes a step further to ensure the product can successfully withstand the environmental conditions including temperature, vibration, and pressure.
Find The Right Damper To Fit Your Needs
Kelair is dedicated to providing our clients with high quality custom indsutrial dampers to fit their specific application's needs.
To learn more about our standards for quality testing, contact Kelair today!